"Pink Ranger, Rescue ready!"
Dana Mitchell is the Pink Lightspeed Ranger. She is the younger sister of Ryan Mitchell, the Titanium Ranger and the twin sister of Jane Mitchell, the Orange Lightspeed Ranger. 
Character History
Edit
Early Life
Edit
Dana Elizabeth Mitchell is the younger sister of Ryan Mitchell and the twin sister of Jane Mitchell, the half-sister of Brian Mitchell and Victoria Mitchell. As she grew old, her appearance change. She is a paramedic at Aquabase and a doctor at Mariner Bay Hospital. She is the first daughter of Captain Mitchell and Reina Mitchell. She was happy that she got younger brother and sister. 
She was seen with her team, Lightspeed Rescue. She followed Jane into the future where she was attack by a demon and Batlings. She was saved by a cloaked figure and her Lucario. It was reveal that she is a half fangire/half human.
Appearance
Edit
Dana is Causisan, with long blond hair. She wore a Lightspeed Morpher on her left wrist. She also wore the Lightspeed Rescue jacket with the number 5 on the white patch. At the beach, she wore a flowered pink and red bikini. 
Personality
Edit
Dana is a sister figure to her friends. Dana is serious, intellectual, caring and level-headed. She is overprotect of her half-sister.
Pink Lightspeed Ranger
Edit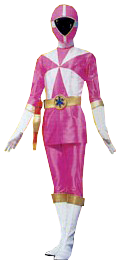 Med Rescue 5
Rail Rescue 5
OmegaZord 5
Lifeforce Megazord
Rescue Blaster
Rescue Morpher
V-Lancer
Battle Booster
Thermo Blaster
Lightspeed Cycle
Rescue Injector
Soccer Moves
Edit
She is eighteen years old at the start of the series
She became a full paramedic at the age of 19.
Interestingly, Dana is the first Pink Ranger to break the tradition of having a name that begins with a "K-" sound, her predecessors being (in chronological order): Kimberly Ann Hart, Katherine Hillard, Cassie Chan, Kendrix Morgan, and Karone.
Her Sentai counterpart is also a worker in the medical field. However, Matsuri is more of a paramedic/EMT, with Dana being more of a doctor.
Dana is the only of two members of the main Lightspeed team related to the mentor; just like the female/mentor relationship in GoGo-V.
Community content is available under
CC-BY-SA
unless otherwise noted.